If you are new to the YouTube community and are looking into starting your own content you have most likely seen a lot of talk about using End Cards. If you are not familiar with the terminology you are most likely wondering what it is and why everyone seems to use them. Well lucky for you, this is a comprehensive crash course into the world of YouTube End Cards.
What is an End Card?
YouTube end cards are basically what they sound like; they are custom cards at the end of a video. Many successful YouTube creators have been taking advantage of end cards for years. Typically, you will see a custom-made template prompting watchers to like and subscribe while also showcasing other videos or playlists related to the content and promoting the viewers of other social media, as well. While the rules are not set in stone on what must be included on an end card, these are the aforementioned elements are what you will normally see included. You can see an example of a few styles of end cards below.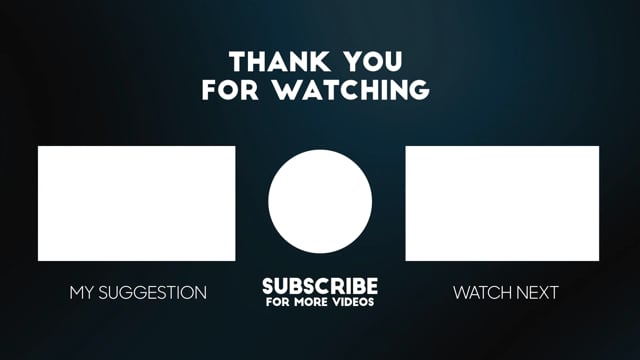 Why Use an End Card?
So, now that we know what an end card is, let's talk about why we use them.
End cards are extremely helpful for content creators as they help to share information such as other social media but more importantly, they can be used to lead viewers to more content. While YouTube already creates their own recommendations based on what you just watched, it's not guaranteed that it will be relevant to the viewer and for the creator, it's not guaranteed that any of the recommendations will even be their content. By using the end cards before YouTube puts out its recommendations, creators are given a chance to lead viewers to see more of their content.
They can do this by adding links to videos or playlists that are similar to the current video. They will entice viewers to view more content. For example, a car repair channel may do an episode talking about redoing the brakes on a 1948 Plymouth Special Deluxe, and on the end card, they may link a playlist covering the restoration of the car from the start. You also may see phrases like "Previous Video" or "Next Video" used in end cards. These phrases lead viewers to believe that it's a continuation in some way, and if they made it to this part of the video, they most likely enjoyed the content and would be willing to watch more. In addition to increasing your viewership by implanting end cards, they can also be handy to promote other related items like a link to a merchandise store related to the channel or content.
End cards are an easy and fast way to entice viewers to consume more content from a creator on and off of YouTube as you have so many ways you can tailor the end cards to the specific needs of a channel.
How to Make an End Card.
Now that we know what an end card is and why they are so important, let's talk about how you can get or make one for yourself! One of the coolest features of end cards is that they can be made of whatever features that make sense to the content you create and what you want to lead your viewers to see.
The first step in getting the perfect end card is determining what features you want on your card, like some of the following:
Video Link
Playlist Link
Subscription button
A reminder to like and subscribe
Links or information about social media accounts
Link to merchandise store
Link to creator website
Of course, the possibilities are endless in what you can include. The above list is a good start to get the ball rolling when it comes to deciding what you want on your end card.
Pro Tip!

While it is tempting to use all these features, remember you do not want to overwhelm your audience, so try to keep it to around 4 features for simplicity.
Once you have decided on what you are looking for, you have tons of options on how you can get your end card. One easy option for those who would rather focus on other areas of content creation may benefit from using pre-created end cards. The two examples we used in the first section came from the sites Design.tutsplus.com and Pixabay.com which have many other end cards that may be useful, but you can find hundreds of other sites that also have great resources for pre-made end cards. The one downside of this method is it may be difficult to find an end card that fits your theme and has the features you want.
However, if you want to make an end card that is unique and specific to you, it is easier than ever! There are many FREE ways that you can create fun custom end cards, ranging from programs like PowerPoint to Canva. On PowerPoint, you can create a simple slide to use as a background. For those wanting to get a little more in-depth, Canva offers many templates specifically for YouTube end cards or you can start from scratch with a plethora of free options. If you are willing to pay you can search for an artist on Esty or Fiverr who can create visuals for your content.
Pro Tip!

If you have any issues implementing end card there are tons of YouTube videos that help explain the step by step process. One that I have found very helpful in the past is by Think Media which is right bellow!
Here are a few helpful resources for creating your own end cards: