Meta (formerly known as Facebook) launched their Facebook Live addition in 2016, but since the start of the pandemic, the feature has never been more popular. According to Hootsuite, daily watch time for Facebook Live broadcasts was 4x higher in 2021 compared to 2020. At this point, 1 of every 5 videos on the platform are now Live. The Live videos give the customer the chance to engage, ask questions, join the conversation, react, and leave comments. According to Hootsuite data, Facebook Live videos receive 6x more engagement than standard videos. Live broadcasts are part of a well-rounded business Facebook marketing campaign. Here are some tips on how best to use Live videos in your strategy to increase overall social media engagement.
How to Use Facebook Live
Using the Facebook app:
Go to the page, group, event, or personal profile that you choose to stream from.
Tap "Live", located at the bottom of your post composer.
Write a description. Here you are able to tag friends, collaborators, or your location.
Tap "Start Live Video" to begin the live broadcast.
When you're done, tap "Finish" to end the livestream.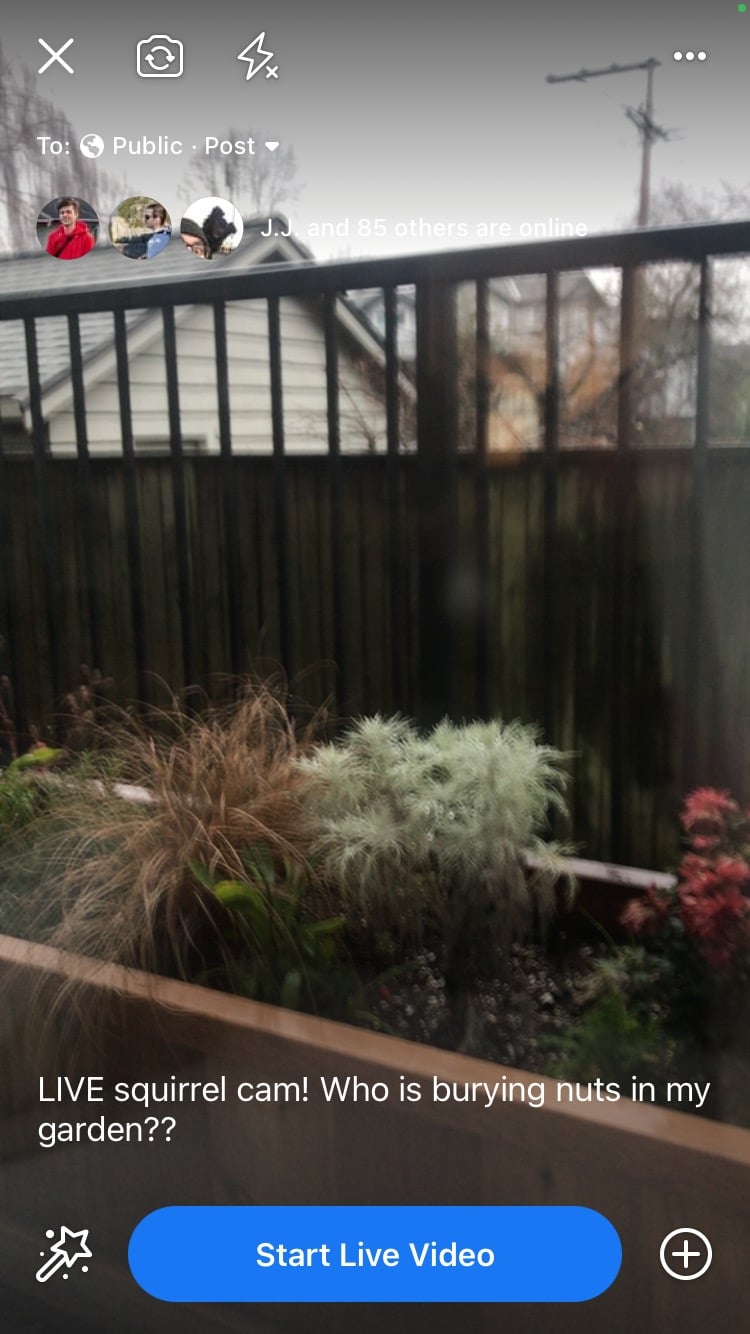 Using the Creator Studio app:
On the Home or Posts tab, click the compose icon on top right corner.
Select the option for Live post.
Write a description. Here you are able to tag friends, collaborators, or your location.
Tap "Start Live Video" to begin the live broadcast.
When you're done, tap "Finish" to end the livestream.
Using your computer:
At the top of your newsfeed, click on the Live Video icon.
You'll be redirected to the Live Producer tool, which prompts you to choose your video source. Select "Use Camera".
On the left side of the screen, write a description and add an optional title for your live video. You are able to tag people or places, and choose to raise money with a "Donate" button here.
When ready, click the "Go Live" button on the bottom left of the screen.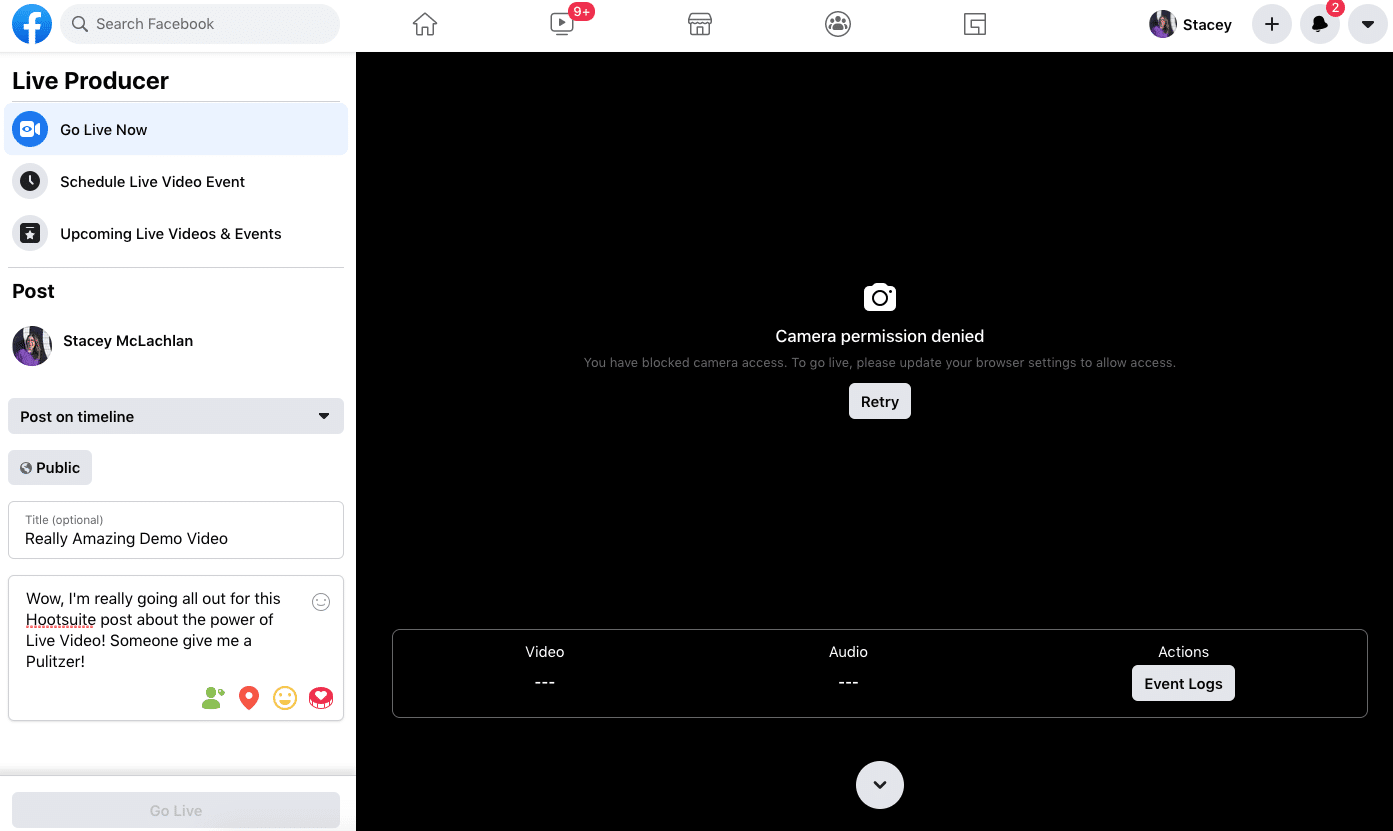 Tips and Tricks for Engagement
Plan Ahead – Make sure to have a purpose and a goal before you hit the Live button. Without a purpose or point-based roadmap, rambling can occur. If there is one way to lose an audience, it's by rambling with no purpose in sight.
Be Authentic – Going Live is unedited and unfiltered for a reason. Listeners want to see your personality and authenticity. It engages the listener and enhances their interest in the feed.
Include Guests – Having a guest or guests on the air can create some of the highest engagement levels. Interview and expert, host a Q&A, or take a tour to keep your audience engaged.
Build Anticipation – Create teaser posts leading up to your Live event. Your audience can even subscribe to live notifications, ensuring they don't miss out. Facebook also gives you the option to schedule your Live up to a week in advance, which gives your audience time to plan for the event and put it in their calendars.
Tag your Collaborators – Give a shout out to your collaborators or identify your location or business. Not only will it help viewers better understand your content, but it will help your content to appear in other feeds, reaching a wider overall audience.
Continue Offering Context – Since viewers will most likely be popping in and out of your Live, continue to offer background and context throughout the Live so that everyone listening is always in the loop. Whether it's saying something like "in case you're just joining us" or always having updates as a backdrop, it is always a good practice to ensure you're audience is informed.
Take Your Time – The longer you broadcast, the more people you will reach. In fact, Facebook prioritizes longer videos with its algorithm, so don't be afraid to take your time.
Actively Engage Viewers – Instead of a recorded video, like a podcast, you are able to engage with you audience in a Live video. Say hello to listeners when they tune into your broadcast and reply to comments and questions as they come. This keeps the audience engaged and interested in what you're taking about.
Cross-promote Your Live Content on Other Social Media – Just because you are on Facebook Live doesn't mean you can't promote your other accounts. If the audience likes what you have to offer, they will want to engage with you on your other accounts.
Utilize Facebook Watch
Facebook Watch is the video-on-demand service offered by Facebook that combines video-sharing-functionality with premium content. Creators can upload their own videos that can vary in length, but also includes original comedies, dramas, and news programs. According to Lifewire, Facebook Watch is similar to YouTube, as it supplies user-generated content and professionally-produced content. For businesses, this is a great place to showcase short or long informational videos about the products or services that are offered.
Elements of Watch for Engagement
Watch Feed – When uploading content, it may appear in the user's feed. Personalize your video's descriptions and classifications to match the interests of your targeted viewers. The more your post content that is relevant to your desired listeners, the more your content will show up in their feed, which increases overall engagement with your material.
Watchlist – Viewers have the opportunity to create watchlists for content they have watched, are watching, or plan to watch. In order to create maximum engagement here, the creator needs to develop an interesting title, description, and display picture. This will increase the chances a viewer will engage with the content and add it to their watchlist.
Social Enhancement – According to the Meta Business Help Center, Facebook is dedicated to making videos social through features like Watch Parties, Page Parties, Premieres, and Live. When creating content, you are able to enhance the opportunity for engagement by creating premieres and encouraging different types of "parties" for the published content. This gets viewers and listeners talking and further engaging in your content.
Utilize Facebook Events
According to Sproutsocial, Facebook is, and continues to be, a dynamic marketing platform with a large audience. It offers a variety of content and types of publishing features that allow you to tailor the experience your fans have. Facebook Events allows the content creator to solidify a place where they can better connect with and answer questions from their client base. These events can take place in person, Facebook Live, or on external platform. However, regardless of where or how the event is held, it can be promoted on Facebook Events.
Creating Engagement with Facebook Events
Plan an Interesting Agenda – Adobe suggests giving a detailed description of what is going to happen at the event so that potential attendees can learn more before committing. In other words, give your guests a reason to RSVP. Plan and publish details that drive the interest of potential listeners, whether it be advertising special guests, prizes, or other exciting factors.
Choose a Creative Event Name – Viewers are less likely to click on and view an event that has a monotone name that doesn't stand out. Put something in the name that pops out at the viewer when they're scrolling.
Create an Interesting Event Photo – Similar to the event name, the event photo plays an important role in earning clocks. Choose and apply a photo that peaks the interest of the viewer. The more interesting the picture, the more engagement.
Write an Exciting Description – The Event title and photo will draw the user in, but it is the description that usually seals the deal with an RSVP. This is where you can explain your event agenda to your viewers to get them interested. Be sure to answer as many questions as possible in your explanation so that viewers aren't confused and completely understand what your plan is.
Add Co-Hosts – Similar to Facebook Live, having and advertising different Co-Hosts is a huge aspect when it comes to overall attractiveness of an event. When the Co-Hosts are advertised and tagged, your event gets more publicity and engagement because it will show up on other pages as well.
Share Your Event Across Social Media Channels – Once you have created an agenda and have a plan put together, start to advertise your event on all active social media channels. The more you get the word out there, the more clicks you will receive, which then leads to higher levels of engagement. When you get the word out to the public, always follow up with reminders as well. Also, Creating call to action advertisements can be extremely helpful for getting engagement and RSVP's.
Run Facebook Event Ads – These ads are flexible promotional tools that help business boost engagement on a budget. With these ads, you are able to select your exact audience and generate high interest levels.