Many of us have heard of virtual reality (VR), which is where virtual experiences can be simulated through a headset covering the eyes. VR has allowed people to watch movies, tour cities, and play video games from a first-person perspective. On the other hand, augmented reality (AR) is less popular, however many brands are beginning to grow with this technology to provide consumers with products in a real-world setting. The simplicity of smartphone access has made utilizing AR features a growing trend among brands today.
The social media network Snapchat has been a huge driver in the use of AR technology. They actually got involved with augmented reality with their array of funny filters and lenses. They brought these virtual experiences to the real world, even allowing users to create their own personal Bitmoji that could talk, sing, and dance in your own home.
Recently, Snapchat announced its launch of Arcadia, a "creative studio" designed to assists brands and marketing teams to develop campaigns utilizing AR technology. Arcadia is there to support brands in multiple ways, whether it just be production of an AR campaign or management of a company's AR features, such as how they are performing or what they should plan next. Additionally, brands can work with Arcadia to take their AR features to other social networks outside of Snapchat. According to TechCrunch, companies such as Verizon, Shake Shack, and WWE have already teamed up with Arcadia to begin AR development.
VERIZON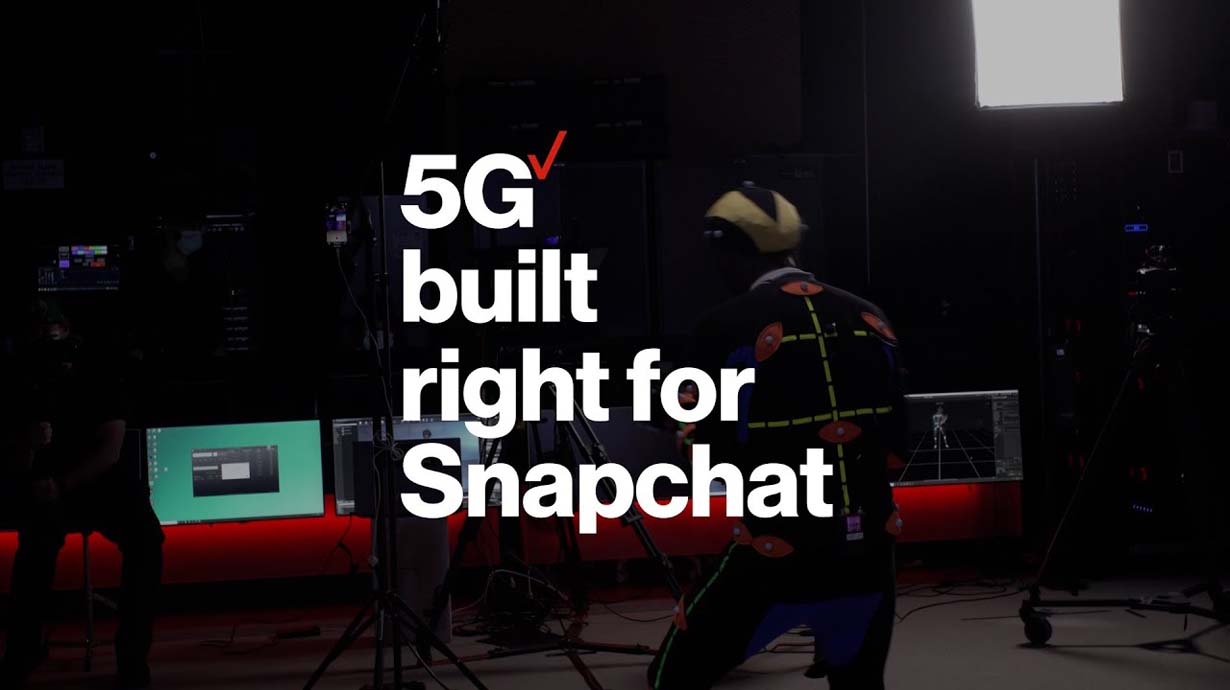 Known for advertising its ultra-reliable, nationwide 5G network, Verizon is one of the biggest internet and phone providers in the world. Expansive and fast coverage is what all consumers are looking for in a provider? Well, how fast is Verizon? Fast enough to stream an exclusive mini-concert in a New York library!
That's right, in 2020, Verizon and Arcadia collaborated to create the "5G Landmarker Lens." Users could open Snapchat and use the Verizon lens to view a "live" performance of "Colors" by the Black Pumas, with lead singer Eric Burton's Bitmoji singing and dancing on a stage. This unique, creative advertising campaign brought potential and current customers together for an enjoyable and memorable experience. Feel left out? Well users can still search for the Verizon lens within Snapchat to view their AR creations.
SHAKE SHACK
Shake Shack + Snapchat = X. Do you know the answer to the equation? Thankfully, this has already been answered for us, when Snapchat teamed up with a NYC Shake Shack last October. "Snap Shack" was a Shake Shack location turned into augmented reality experience where customers could use custom Snapchat lenses for different things such as shopping for merchandise or enjoying a performance from dancing foods. In addition to their AR marketing campaign, Shake Shack announced that 100% of the merchandise sales resulting from the event were donated to NYC's Fresh Air Fund. What sounds better than dancing French fries and customized merchandise all for supporting a good cause?
WWE
Many of us grew up loving the intensity and creativity of WWE's wrestling style and signature Royal Rumble events. More than 40 years from their creation, WWE is still providing great shows for fans of all ages. However, it's time they adapt to the modern landscape and provide fans with new, thrilling experiences. By turning to augmented reality, WWE has created events for fans to enjoy from the convenience of their own home. For example, before a matchup featuring AJ Styles and Shinsuke Nakamura, fans could watch their Bitmojis duel it out. Or perhaps some fans wanted to test their own skills against WWE legend John Cena! By pulling up the WWE Snapchat lense, users could take down Cena's Bitmoji for the ultimate victory.
How will your brand consider using an AR experience in your next campaign?